Gods Eternal Will for All Humans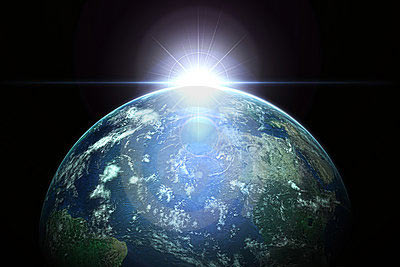 REVIEW
God's eternal will for all creation is to destroy Satan's rulership and bring everything, not just humans, back under His wonderful rulership of LIGHT, a total reconciliation; this means everything from angels to dirt – forever (Colossians 1:19–20).
INTRODUCTION
POINT
To reveal that all humanity is the focal point of the conflict between God and Satan and that we are all struggling because of this conflict.
PURPOSE
To increase understanding of our daily conflicts, and the importance of dealing with these conflicts in a godly manner, and to create a loving, sympathetic, and helping attitude toward all people.
VERSE
For our struggle is not against flesh and blood, but against the rulers, against the powers, against the world forces of this darkness, against the spiritual forces of wickedness in the heavenly places. (Ephesians 6:12)
STUDY
GOD CREATED US AND MADE US RULERS
God Created us and gave us rule over this earth:
Then God said, "Let Us make man in Our image, according to Our likeness; and let them rule over the fish of the sea and over the birds of the sky and over the cattle and over all the earth, and over every creeping thing that creeps on the earth." (Genesis 1:26)
God placed limits on us:
he LORD God commanded the man, saying, "From any tree of the garden you may eat freely; but from the tree of the knowledge of good and evil you shall not eat, for in the day that you eat from it you will surely die. (Genesis 2:16–17)
WE REBELLED AND GOD REVEALED
The woman and Adam ate the forbidden fruit, they then realized they were naked and covered themselves. When they heard the Lord walking in the garden, they hid themselves, but the Lord found them and began to question them (Genesis 3:1–9). Because Adam was afraid, he tried to direct the Lord's attention away from his sin: He (Adam) said, "I heard the sound of You in the garden, and I was afraid because I was naked; so I hid myself" (Genesis 3:10). But God had created them naked and there was nothing wrong with them being naked in their own "house." Adam's fear was caused by God's promise of death, not his nakedness (Genesis 2:16–17). After the Lord questioned the man and the woman, He dealt with the serpent, and then spoke to Satan (Genesis 3:11–15). To Satan He said:
And I will put enmity Between you and the woman, And between your seed and her seed; He shall crush you on the head, And you shall crush him on the heel. (Gen. 3:15)
At this time God established four truths: 1) God placed enmity (hostility or hatred) between the woman and Satan. 2) He placed enmity between their seed (offspring). 3) He told Satan that through the humans Satan's head (rulership) would be crushed, and 4) He told Satan that Satan would give the human offspring a minor wound (the crushing of the heel).
GOD REVEALS HIS ETERNAL PLAN FOR HUMANITY
In these four truths God began to reveal His eternal will for all humans. God left humanity on this earth to be the focal point of the destruction of Satan's rulership. God did not leave us here to have an easy, fun filled, self centered, physically wonderful life. God left us here as agents in the crushing of Satan's rulership – for all eternity. To this day these four truths create all the conflict in the world (Ephesians 6:12).
SUMMARY
God's will for all humanity is to be the focal point in the conflict and destruction of Satan's rulership – for all eternity! (God's LIGHT is now shining forth from this earth to all creation.)
Download a pdf of Lesson #2 here
Things Above Ministries © March 31, 2010
ScVerlin Barton